News Desk
KARACHI: On Global Climathon Day, 25th October 2019, over 150 cities organized a solutions-hackathon aimed to tackle local climate challenges. The hackathon is part of Climathon, a global year-round program initiated by EIT Climate-KIC, a body of the European Union, to mobilize cities and citizens to take climate action, together.
Ever since the first Climathon in 2018, The Hack Embassy has been hosting Climathon in Pakistan and welcoming the fresh climate-conscious ideas all the students, innovators, professionals and citizens of Karachi have to offer.
But this year was particularly exciting for us because of the inaugural Climathon Global Awards. Through Global Awards, city-winners get to present their ideas at the ChangeNOW summit happening on January 31st in Paris and compete for up to €18,000 in prizes.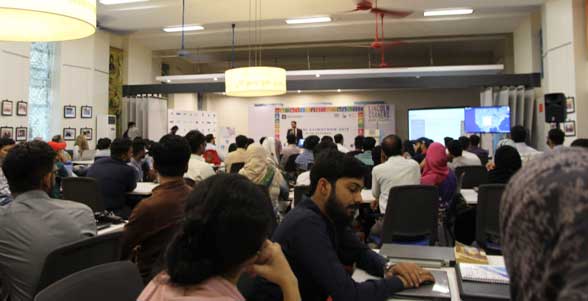 Karachi Climathon is a one of its kind initiative wherein Karachities from all walks of life come together under one roof to exhibit their passion for Climate Action and show the world that it really is possible to co-create solutions for local climate challenges over the weekend.
The event kicked off with a short introductory address from Durlabh Ashok, co-founder Hack Embassy, followed by a speech by Deepna Karan Singh, young climate activists. Following this, the participants were introduced to the climate challenges that were put forward by our challenge partners such as UNDP Pakistan and Shehri-CBE. Once the challenges were on the table, teams began to form and were paired with overseeing mentors.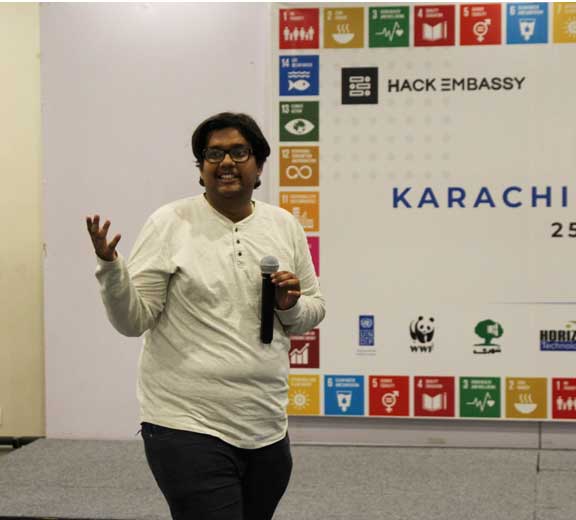 Over the course of the next two days, the teams worked tirelessly, left no stones unturned and went from having just an idea in their heads to having a fully planned business ready to solve the climate challenges of Karachi. During this entire process, they were constantly being guided and mentored by members of Climathon team as well as external coaches from diverse backgrounds who had been invited to impart their expertise.


We also had planned interesting activities to keep the energy level of our participants up throughout the course of the two-day event.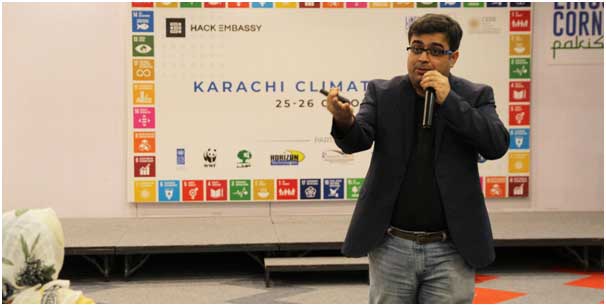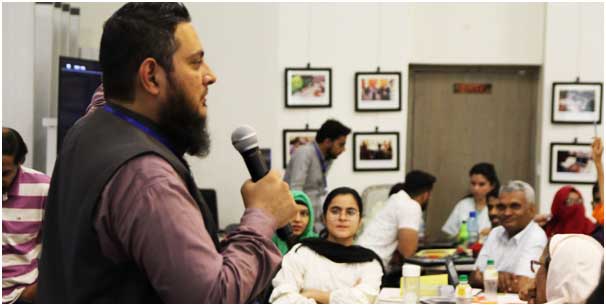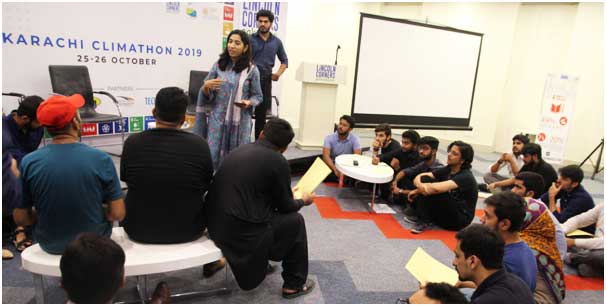 Apart from this, we also arranged for some inspiring youth leaders to come and take part in a panel discussion in an effort to inculcate the spirit of sustainability and entrepreneurship in the participants. They spoke about their respective journeys, the struggles they faced and all the lessons they learned along the way. Their insights offered a valuable perspective into the mind of a seasoned entrepreneur.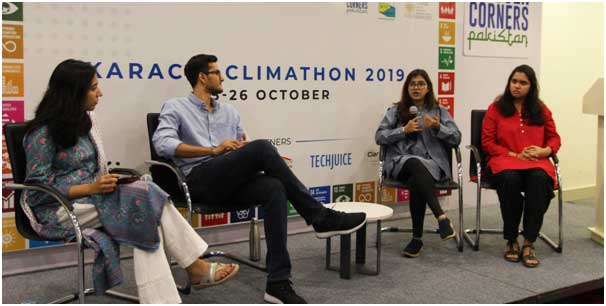 We topped off the second day inviting Sasha Alamgir of Forever Green and Eman Danish, young climate activists for fireside chats.




When it came to the final pitches, we had a panel of five amazing judges. The panel was not confined to a single field or industry with our judges hailing from different backgrounds.


We were swept into a whirlwind of innovation with eighteen ideas being pitched on the final day, each unique, structured and implementable. The ideas ranged from an IoT based solution to conservation of water in urban areas to a curriculum on Climate Change. Among these ideas, our panel of judges awarded prizes to the top two.
City Winner: Innosix
Runner-up: Dot.io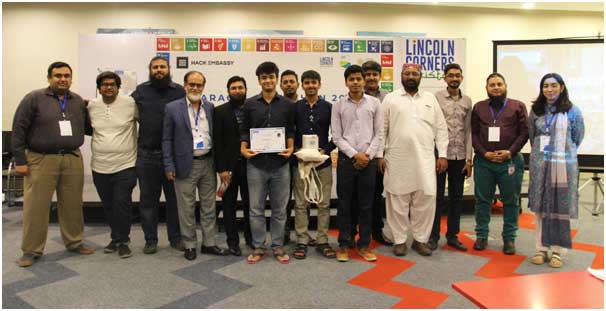 Why Climathon?
Despite this being the second edition, Karachi Climathon by Hack Embassy proved that Pakistan is brimming with raw talent. We have a sea of individuals who are all set to make an impact or just solve simple climate challenges. Thanks to the participants, judges, speakers, partners coaches and the media, the second edition matched and surpassed the first. Here's to all of you, making Pakistan green once again.
A special shoutout goes to Lincoln Corner Karachi (Liaquat Library) and their team without which this hackathon was not possible. We also want to thank our partners UNDP Pakistan, Centre of Excellence in Responsible Business(CERB), WomenInTechPK, Shehri-CBE, Karakoram Girls, Pakistan-U.S. Alumni Network, National Incubation Center, Karachi and Bahria University for their continued support.
About Hack Embassy:
Hack Embassy is a youth-focused innovation hub that is in the crossroads of entrepreneurship, sustainability, and technology. We promote empathy, courage, and a global mindset with a mission to empower the next generation of Pakistani changemakers. We do that by introducing initiatives that create spaces for our youth to engage and co-create solutions to Pakistan's most critical challenges.
Website: www.hackembassy.com, Phone: +92-330-362-2779