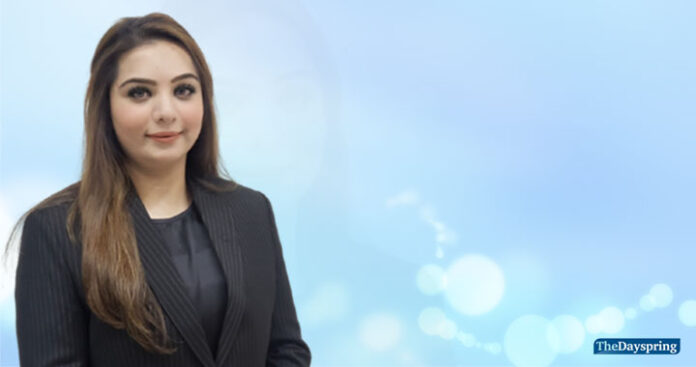 Interview By: Team TD
Tell us about your professional background?
I'm a Culture Transformation Consultant and Career Transition Strategist. I recently established a management consulting firm "Mariam Khan Coaching" where we offer consulting services to the individuals and organizations globally. We provide coaching, support, direction, and consultation to leaders – up-to-and-including the President level on all matters related to a company's human capital.
I am also the Bureau Chief-Washington, DC for The Dayspring, where I will manage their International Projects and work closely with reporters, editors, and hire diverse talent globally. Previously, I worked in US government, education, and legal industries, where I learned the art of leadership, science, and technicalities of human resources management. In my last role with US local government, I managed HR functions including compliance, performance management, transformation management, policies & procedures, employee relations and filled several critical positions in the organization. One of the primary requirements of my job was also to interact with different departments and create an environment where they can focus on their technical and professional aspect.
Transformation is my passion, and after months of injecting myself into situations and making decisions, I was able to gain enough confidence to deliver a variety of programs that were timely, important, and interesting to the leaders I supported. Those initiatives were a big success, and I was able to achieve my goal of improving the leader's perceptions.
What aspect of your work gives you the most sense of satisfaction?
I genuinely enjoy assisting people in discovering their passion and resolving various challenges they are facing, whether personal or professional. My biggest joy comes from being able to provide a solution to a difficult situation. Even better, I'm ecstatic when I see a leader come to a conclusion on his or her own by actually talking through a difficult situation with the help of my guidance and counsel. My area of expertise is business and culture transformation. I enjoy rolling up my sleeves and bringing tangible value to an issue. However, I do not believe in doing anything just for the sake of doing it. Any action I take must have a positive impact on the business leaders I work with.
How do you define success?
Success and failures are within us. There is no ladder on which you can step up to success. When it comes to reaching your destination, life throws many tantrums, and your path is always filled with thorns. Those that are committed and never stop are courageous. Allah is always putting us to the test and strengthening us. He does not always show us the path to success, but he always gives us the confidence to achieve our goals, and if we lack determination, he makes sure that he places us in situations where we must conquer them by enhancing our courage. You become the person you imagine yourself to be. Make sure you get up if you fall. Begin to believe in yourself.
Based on your experience and observations of the corporate recruiting process, what advice can you offer to job seekers?
It is not enough to simply apply to a job opening on a website. To get your resume to the top of the stack, you must find a way to make internal connections. Learn all you can about the business so that if you are given the chance to interview, you'll be able to talk intelligently about all facets of it. When interviewees are able to do this, they really stand out, and I feel that far too few job seekers take advantage of this approach.
It's all about self-promotion when it comes to landing a job. And, contrary to popular belief, it does not necessarily have to be just what the company needs. Consider what you desire from an organization and its management team. What values does the business hold, and do these values resonate with you? Speak with the employees.
How can we achieve success easily?
There is no such thing as a simple way to achieve success. It is something that we all strive for. Every individual has their own set of beliefs that they adhere to in order to achieve greater success in their lives. I believe that working hard is the only way to succeed in life. There are many things I want to accomplish in my life, and I've learned that the only way to do so is through hard work. To get it, we'll have to put in a lot of time and commitment. There have been many times in my life where I have only been able to survive because of my hard work.
What message do you have for our youth?
Today's youth, in my opinion, lack concentration and attention. Staying focused can be difficult, but it's much more difficult when you're surrounded by constant distractions. Diversions are just a mouse click away in today's always-connected environment. Even during quiet moments, distraction is literally at your fingertips as you find yourself checking your Facebook/Instagram notifications or the latest news updates. Whether you are trying to finish a report at work or competing in a marathon, your ability to focus can mean the difference between success and failure. Improving your mental focus is achievable, but that doesn't mean that it's always quick and easy. It will take some real effort on your part and you may have to make some changes to some of your daily habits.
One of the first steps is to recognize the impact that being distracted is having on your life. If you are struggling to accomplish your goals and find yourself getting sidetracked by unimportant details, it is time to start placing a higher value on your time. By building your mental focus, you will find that you are able to accomplish more and concentrate on the things in life that truly bring you success, joy, and satisfaction.
Lastly, Do job that you truly enjoy! That happiness will radiate from you, making you a magnet for future company.
Mariam Khan is the Founder/CEO of Mariam Khan Coaching and currently working with The Dayspring as Bureau Chief-Washington, DC. She can be reached at [email protected].