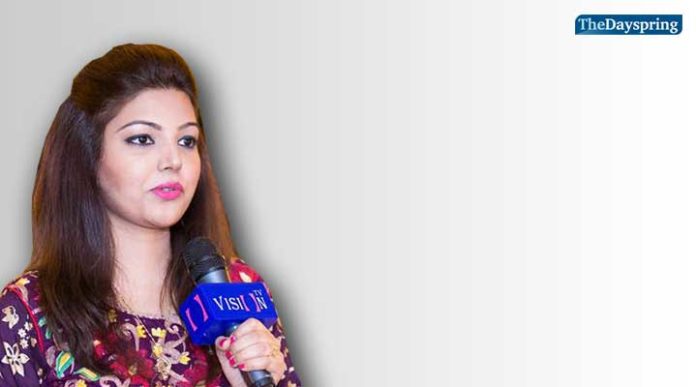 She talks about her entrepreneurial journey and and gives some important advice to Youth to become a successful entrepreneur.
Sehrish Kanwal is the founder CEO of Digital. She has worked with brands, startups, national and international clients for over a decade; she has developed a passion for working with individuals and businesses who are struggling with growth and social presence in the online world. The reason many businesses struggle longer than others is due to the absence of vision & insight that help create a marketing and branding strategy that will bring results. Therefore, she closely work with struggling businesses helping them turn into brands.

The Dayspring got a chance to interview Sehrish.
Can you share us your entrepreneurial journey?
I initiated my journey way back in 2013 when I realized that it is a very different experience to be a decision maker, out of box thinker and strategy maker. At one point in my life, I realized that I wanted to be in-charge of my decisions, paving my ways and others to think, design strategies and testing them directly. This gave me a sense of accomplishment, satisfaction and fulfilment.
Networking with people, building teams and empowering others were always my core strengths so I decided to utilize my abilities in the best possible way so that others can also learn and grow. Entrepreneurial journey had a break in 2018 but it was a short break and I resumed back just recently. Nevertheless, let me tell you, it is always so much fun and excitement playing in the battlefield on the front end rather to be on the backsides.
Can you tell us what digital marketing is and how it is different from traditional marketing?
This is the era of technology and technology is not limited to any field, it is everywhere. Today, we rely on technology for smaller things to bigger things such as to ordering food, booking tickets, ordering a cab, shopping, viewing destinations and even for learning new skills and getting certifications and degrees.
Everything has been digitalized and digital marketing is the key to start an entrepreneurial journey. Therefore, when you are approaching a customer who is sitting on the other side of the screen, it is need to show him an ad resembles with his native experience of viewing similar type of content on the internet. Digital marketing is all about marketing on the internet. Creating experiences that is view and enjoy generate more customers and help in businesses growth.
It is the result of effective digital marketing campaigns, and we can see several success stories of rising entrepreneurs and business owners who have built their digital presence successfully and making a living for themselves. So, Youth should learn digital marketing tools and techniques to become successful entrepreneurs.
Traditional marketing is however different. TV , newspaper , radio and other print materials are categorized under it. It has not completely declined but a major shift has been observed towards digital. Traditional marketing mediums are very expensive and it may costs millions even billions in TV advertisements, billboards and hoardings whereas digital marketing is less costly comparatively.
Do you think Digital Marketing is more effective than traditional marketing?
The industry is going through a transitional phase where a major shift is coming from traditional to marketing. Companies are focusing on video marketing but instead of playing those videos commercials on TV, they prefer to play it on YouTube, IGTV (Instagram), and Facebook page and embed it on their websites.
The best thing about using the digital platforms is that you can monitor insights against ad payments, video views, and ad campaigns. While in traditional marketing, insights are only speculated and high cost element cannot be taken out of equation.
Do you think Digital Marketing is an important element nowadays for the growth of any company?
Absolutely. Digital marketing is highly significant for the growth of a company whether it is a small business or a giant. I would like to quote an example of top companies of the world such as Apple, Google, Microsoft, Facebook, Coca Cola, McDonald's and BMW etc. Despite being in business, for over decades and being the industry leaders they are still investing much time and human resource to carefully manager their social media handles such as Facebook and Instagram. They have the team to create and design engaging campaigns and monitor insights. Therefore, even being followed by millions of people who like, comment and give feedback on their content every day, they do not crash.
Over the years, digital marketing has helped to bring companies and their customers closer. Today, people feel more closely associated with brands that have digital presence, engage with their customers and make them an important part of their digital media handles. Therefore, whether you have a small or big business, digital presence is must.
Can you share us channels of Digital Marketing? Which one do you think is better?
Social media marketing, search engines, emails and websites comes under the umbrella of digital marketing. These channels are used to connect companies and brands with the customers. As for your question, which one is better, it is not possible to tell because every business has its own needs and requirements, audience, market and business dynamics. It also varies from one country to another. Now, for example, many businesses are not using Pinterest in Pakistan to market their products but it is very commonly use in countries such as US, UK, Japan, France etc. However, in Pakistan, businesses prefer to advertise on Facebook and Instagram because these two channels are highly popular here. Furthermore, search engines are used to optimize business in the form of SEO Search Engine Optimization and Search Engine Marketing. Twitter also offers ad platform but in Pakistan politicians, celebrities, and journalists use it more, sometimes it feels like a political warzone. Website is also mandatory for every business and since it is the front face of your company therefore, it should be amongst top priorities of any business.
Women are the integral part of the society. No country can achieve success without women involvement. What initiative you have taken for women empowerment?
Thank you for bringing this question up. Women are 49% of the total population of Pakistan and recently, I have seen a rising trend among urban housewives who spend most of the time at home. They are networking with like-minded women, turning into freelancers writers, running virtual offices, home based art/craft, clothing, bakery business and much more. Due to rapidly increasing use of social media, our house wives are now turning into home based women entrepreneurs. They use their creativity and make amazing stuff.
However, when it comes to marketing, branding and use of social media, they face much difficulty in creating pro-level profiles, creating engaging campaigns, working on page reach and creating a brand that will boost their business growth. For women such as these, I conduct online sessions on social media marketing, creating business profiles on Instagram and Facebook, adding value to your business and turning them into brands.
I am so glad to see that many women entrepreneurs are enhancing their social media presence after attending these sessions. In future, workshops on marketing and branding are also in our pipeline.
Do you think it is still harder for a woman in our society to start and establish a career? How could we break this barrier?
Yes, it is due to a number of responsibilities we have to take especially after marriage, looking after children and being under pressure of society. Workplace harassment, using public transport, travelling alone etc. are so many challenges that women have to cope with every day. Therefore, the majority of parents do not feel very safe sending their young girls alone.
However, as I said earlier, this is digitally connected world and I know many women who are utilizing their skills as writers, home based entrepreneurs, social media managers, graphic designers and much more within the comfort of their home.
But there's something additional that we need to do, to make our workplaces safer and convenient for women, implementing laws that protect women and equipping our young girls with mental and emotional strength to not to come under pressure of any sort when it comes to harassment and take a stand for themselves.
How do you see the potential of youth in Pakistan? Any advice for the youth?
Youth is 60% of the current population of Pakistan. Every day I meet young people from different backgrounds. Some of them are students, some are aspiring entrepreneurs, some are struggling with career choices and some are clueless what to do to progress in life. I strongly believe all of them are highly talented but those who are lagging behind others need to research where are they lacking in terms of career growth.
I advise them to read biographies of successful people and learn how they overcame challenges in life. There is more to it, you can also watch movies on their life, watch short videos available on YouTube and follow them on social channels to see how they are going about life.
---