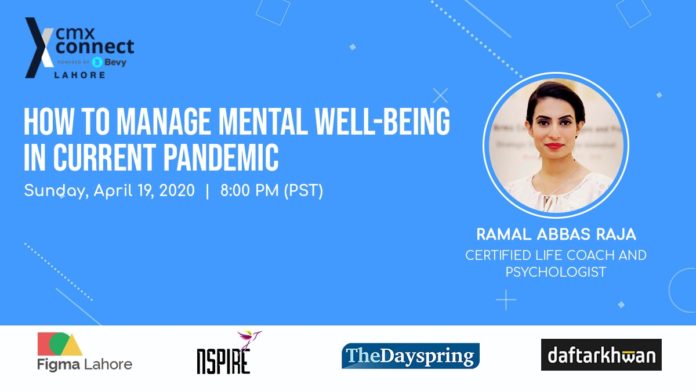 As the whole world is facing the same thing, COVID-19 Pandemic which is creating intense fear and anxiety. This feeling of uncertainty is leading us to different Mental Health issues.
Therefore, to deal and overcome these psychological problems, CMX is going to organize Online Webinar on the topic How to Manage Mental Well-being in Current Pandemic on Sunday ,19th April at 8:00 P.M. Aim of holding this session is to talk about how to deal with the situation in a positive way, and how to take care of our Mental Health. 
Ms Ramal Abbas Raja, a Psychologist will be the speaker of this session.  She has more than five years of professional experience in this field.  She is running a Platform for Personal Growth, name as "Go To Coach" which provides services (Online and direct), through individual and group sessions. She is able to assist and empower her clients and audience to find a true connection, to look for the answers within, and a lot more. She believes in the value of delivering a down-to-earth approach to counselling and coaching. Her work has been described as refreshingly pragmatic, illuminating and Life-changing.
For More Details Visit:
https://events.cmxhub.com/events/details/cmx-lahore-presents-how-to-manage-mental-well-being-in-current-pandemic/