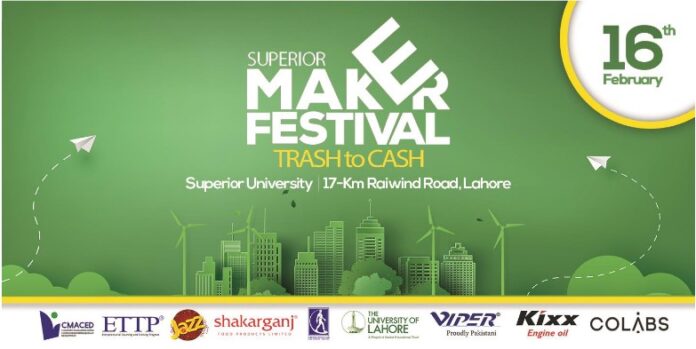 The need to empower youth for a better tomorrow is connected both, to the financial elevation as well as increment of the standard of living.Youth empowerment in any development is imperative not only for national development of an entire country but also for personal development of an individual. Entrepreneurship is important, as it has the ability to improve standards of living and create wealth, not only for the entrepreneurs but also for related businesses.
Superior University always think about the betterment of its young students & faculty to bring positive changes in the society.Like every year, CMACED (Center for Entrepreneurship) is organizing Superior Maker Festival once again on February 16,2021 with the vibrancy & thrill of ETTP (Entrepreneurship Teaching & training program) to inculcate the true spirit of "Can Do It".
The maker-festival for grass root innovators/ hackers/ makers in Pakistan. It is the celebration of the Do It Yourself (DIY) mindset, and the global maker movement. It is a platform for a like-minded maker community that brings to life a diverse range of raw, unique, and unconventional ideas to solve real-life problems. This year the fest will come with great responsibility because the health & safety of our makers, our team and our visitors is paramount but it all comes with lots of fun.
If you make something using your head, hands &heart then HAZAA! You're a maker! All the departments from Superior University are welcomed to join us. This year's theme will be "Trash to cash" in which you recycle, innovate & create. Waste is not waste, until you waste it.Recycling is crucial to the future health of our planet.
There are going to be many invigorating & enrapturing activities. Tech-fest, Fashion walk, Releaf art, then comes robotics, and photography competition. Then there will be health care exhibition for only MBBS entrepreneurs. What is the festivity without fun and entertainment? There are going to be much fun; concerts,skits, and Mimet which will elate your moods.
Many honorary guests and guest speakers are also coming from the industry who will instill the significance of recycling in our youth. Global speakers from the US and other foreign countries will join us virtually. Winnerstudents will get amazing prizes. Our inestimable partners who collaborated with us are Chughtai Lab, Viper,Shakarganj, Kix,Colabs, University of Lahore and Jazz.
SMF influenced a huge number of students and we changed the way of thinking and brought a positive change for making the planet better place to live in with high self-esteem & optimism. The panel has 6 panelists, 200+ amazing stalls are exhibiting their specialties. There are 50 honorary guests and an audience of 1000+ people. ETTP pledge to empower the youth of Pakistan to make their lives sustainable.