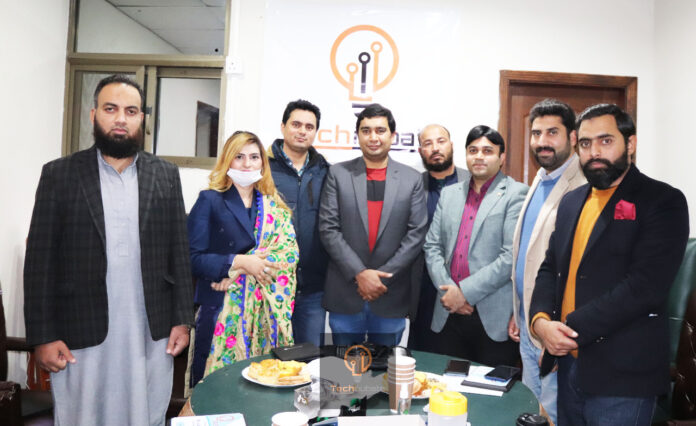 By: Our Correspondent
Islamabad: Inauguration ceremony of Technubate was held in DHA Islamabad at Designit Office, with the objective in helping entrepreneurs and supporting the startup ecosystem of Pakistan. Professionals with diversified background having proven expertise in various technical and non-technical field attended the event. Technuabte Founder Mr Ahsan Yameen and Co-Founder Mr Awais Jalali chaired the event.
While preside over, Mr Awais Jalali briefly shared the agenda of Technubate platform. He discussed about the various challenges faced by the startups and elaborated the mission & vision of Technubate in solving these problems. He stressed on bridging the gap between the industry and academia to mitigate these challenges for startup ecosystem. He viewed that skilled base knowledge should be adopt in future follow to overwhelm the knowledge gap. Furthermore, he also shared his opinion to lift up the startup ecosystem using universities as nurseries for entrepreneurs. Working on solutions of various local problems and challenges, will have ripple effect on our economy and society. Empowering the youth with skill will also help in reduction of unemployment
Founder, Mr Ahsan Yameen while expressing his views told that US Startup Industry worth is in trillion Dollars and our neighboring countries startup industry is touching the trillion dollars. Even Singapore has startup industry worth billion dollars. Unicorns are evolving from the startups of our neighboring country but we lack far behind them so there is an immediate need to uplift the entrepreneurs eco system in our country to boost the economy through working on different challenges faced locally and globally.
All the participants at the event agrees to fully support Technubate initiative, its mission and vision by sharing their expertise, mentorship, assistance and investments.
In the end, Co-Founding Member Shield as a Souvenir presented to the attendees of the event. Following are Technubate Co-Founding and Think Tank members who vowed their support for Technubate plans
Dr Abdullah Khalil – Founder Pakistan Civil society Social Activist
Mr Asim Nawaz Abbasi – Editor They Dayspring
Ms Lubna Ali – CEO Digital Essential Pakistan
Mr Ahmed Raza Kirmani – Founder National Youth Agriculture Commission
Engr Waqas Rashid – Designer and Product Expert
Mr Huzaifa Swati – Environmentalist
Mr Haroon Rasheed – Contract Specialist
Mr Shahid Yousuf – CEO Artificiers
Raheel Afzal Khan – CEO Datumsquare
Engr M. Arif Iqbal – Eco-Friendly Construction Specialists