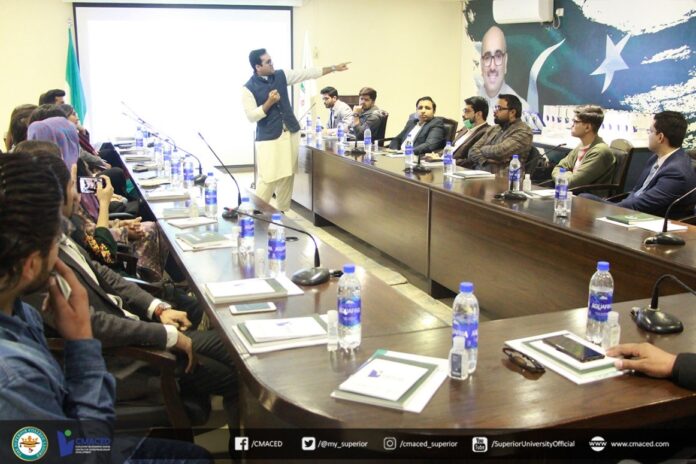 By Saud Nadeem

Chaudhry Muhammad Akram Centre for Entrepreneurship Development (CMACED) from Superior University has organized a Media Meetup on Friday 29th January, in which people from different media participated and shared their experiences. Young media professionals from social, digital, electronic, and print media shared their experiences in this session. The senior participants said that young media persons could play an important role to depict the positive identity of Pakistan.
Muneeb Ahmed General Manager CMACED said that the purpose of this gathering is not just to debate the problems of our youth but also to identify that how we can become a voice for them in the future. CMACED is working on its vision for years to promote an entrepreneurial mindset among youth to put their innovative ideas into reality. So, they can start their own startups to make their lives financially stable. And now we want our media to highlight these ingenious thoughts of our youth in front of the world on every social platform to portray the soft image of Pakistan. We have always believed that the youth of any country is an important asset in making this country superior. So, we want to see Pakistan superior in the world and it's not possible without your support.
In addition to this many other programs of CMACED were introduced like ETTP, Social Entrepreneurship Program, Innovation District 92, Scaleup Pk, Oh My Genius and Her Karobar.
Every participant in the meet-up appreciated the vision of CMACED. Zubair Sajjid Dhillon, Fraaz Mehmud Kasuri, Rashid Manzoor, Asad Sohaib, Muhsen Ali Turk, Tausif Ahmed Awan, Rab Nawz Ahmad Khan, Noman Liaqat, Shahzad Roshan Gilani, Kiran Fatima, Haroon Jabbar, Maryam Imran, Ammar Mazhar, Aneeb Zaheer, Safdar Ali, Samna Kamal, Haris Bhatti, Anas Gondal, Waheed Rabbani and others had lively discussion on the matter. At the end of the session, all of them pledged to be the voice of the youth to make Pakistan stand out in the world.