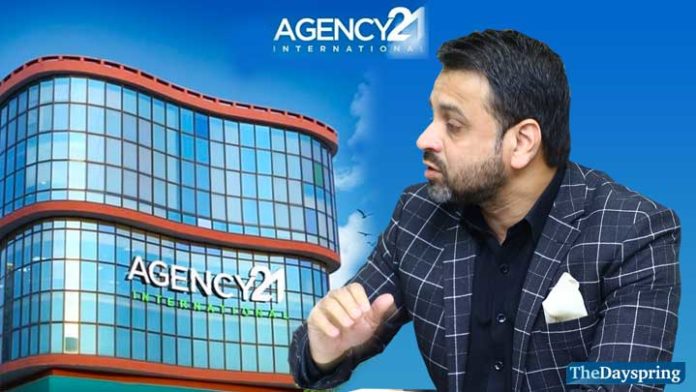 By: Farzana ali Khan
ISLAMABAD: Meet Sharjeel A. Ehmer, " Director Agency 21 International "who wants to change the way real estate is looked upon in Pakistan.
Sharjeel A. Ehmer is on a mission. He wants to change the landscape of the real estate especially the way it is looked upon. As a Director Agency21 International, he has started to achieve in what he believes in.
Sharjeel did his graduation from Gordon College, Rawalpindi and completed his masters in commerce. He started his career in the pharmaceutical industry back in 2000 as a sales representative and ended with the country head of the leading company of Pakistan. He left his successful career in the pharmaceutical industry and started Agency21 International leading to a positive change for the real estate industry of Pakistan adding a difference in this industry from his platform.
According to Sharjeel, he chose this profession as it was one of the most neglected industries, so he aimed to bring revolution and good career opportunities for the new generation.
Agency21 International stepped into Pakistan's Real Estate Market in 2016 with the conviction that it is vital to change the image of this field in Pakistan. They are doing this in the Twin Cities of Rawalpindi and Islamabad by providing an unparalleled quality of professional service, clear and transparent transactions and completely validated legal services.
Since then, Agency21 is changing the way sellers and buyers perceive and conduct transactions in the real estate market in Pakistan and people are paying attention! With over 120 employees and eight national offices and one international office in London, Agency21 International is on its way to becoming the largest real estate agency in Pakistan.
Agency21 International conducts safe and secure transactions where our representative only advises to invest into projects which are authentic and authorized. The staff are properly trained on the dynamics of the real estate industry, and Agency21 International ensures that the entire transaction process is made visible to the client on their dedicated portal.
Agency 21 International has made transparent transactions possible with no under-the-table dealings with the client. Everything during the deal is documented and recorded. It has replaced the traditional work force with a more professional and better-trained team and has created jobs for the educated people in their field. Agency21 is an equal-opportunity employer, and provides equal employment opportunities for both men and women in an arena traditionally dominated by men.
In the present Covid-19 situation, the job market has been badly affected. The shutdown of businesses will lead to a decrease in personal income meaning big purchases on things like cars or appliances will be postponed.
However, in the current situation where companies are laying off employees, Agency 21 International is hiring and expanding operations in new areas to accelerate the process of transformation of the real estate industry in Pakistan.
Agency21 International have solid projects on their hands, which includes: Amazon Outlet Mall (GT Road, Islamabad) – already functioning and handed-over; Imarat Builders Mall (T-chowk, Islamabad) – handing over in September 2020; Mall of Arabia (Faisal Avenue, opposite to PWD); Florence Galleria (DHA-II, Islamabad); Amazon Hotel G-11 (G-11 Markaz, Islamabad).
Agency21 is working on several PropTech applications to be introduced for the Real Estate industry of Pakistan. These will be beneficial for clients and will assure greater transparency in this field by digitizing the real estate of Pakistan, ensuring safe, secure and transparent transactions enabled by technology for all.
With all the innovation in information technology, which has been transforming all industries across the globe, Sharjeel is trying his best to bring the change IT offers to real estate in Pakistan along with a sound vision and best industry practices. With amalgamation of important ingredients for success – innovation, vision and best industry practices, Sharjeel is all set to propel Agency 21 to a respectable place and a force to reckon in real estate industry of Pakistan.