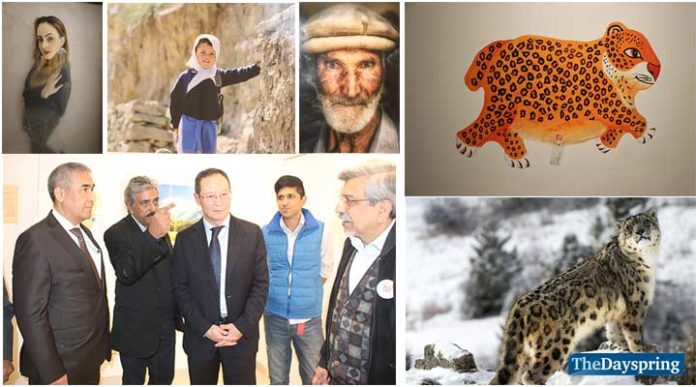 By: Atle Hetland
ISLAMABAD: The directors of Gallery 6 and the Snow Leopard Foundation in Islamabad and Gilgit welcomed guests to the opening of a short exhibition of paintings and photo in Islamabad. Chief Guest at the event was Kyrgyzstan ambassador's Erik Beishembiev. The event was also attended by the dean of the diplomatic, Movlamov Atajan, who is Turkmenistan's ambassador in Pakistan, several foreign ambassadors, retired Pakistani diplomats, senior artists, conservationists, and many other guests.
SLF Chairman Professor Ali Nawaz could not attend as he is currently in the USA in a postgraduate scholarship. However, several guests mentioned his crucial role in relation to the protection of the snow leopards in Pakistan and the region. It is estimated that there are only a few hundred of the rare animals in the Pakistan part of the Himalayan region, and a few thousand in the 12 other Central and South Asian countries where the snow leopard can be found. A regional protection centre has been set up in Bishkek, said ambassador Beishembiev.
The exhibition included works by six painters and two photographers, showing a small sample of the comprehensive body of work that exists, some of the unique art and other things more for documentation and research.
"We also depict wild animals and domestic animals and people. We should remember that wild animals can also do damages, which lead to losses for local peasants", said a student who hails from the Northern Areas.
"Since we today talk about tourism, but also the importance of environmental protection, including work related to the snow leopards and other rare animals and vegetation, it is essential that we encourage and support the Government and the Snow Leopard Foundation in their work", said a young guest at the event.
"It is the youth and our children who lose if we don't do our duty", he added, standing next to two students from East Africa. One of them said that wild animals are essential to the large tourism industry there.
"I enjoyed the exhibition, but missed a bit more photos of the carnivores", said a female guest, and a man in the group added: "I know that the Snow Leopard Foundation has a big archive of excellent photos, videos and films. I look forward to other events where we can enjoy seeing some of those. Yet, this does not mean that I also appreciated the paintings."